NSF Certifies Service Linen Supply as Only Their 2nd Certified Linen Provider
Posted by Amy Donahue on Sun, Dec 11, 2016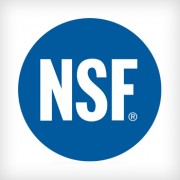 NSF International Hygienically Clean
With Service Linen Supply's new NSF International hygienically clean certified napkins and tablecloths, you never have to wonder how clean your table linens really are.
The NSF mark is a trusted symbol in the Foodservice Industry and certifies that Service Linen Supply's' laundering and handling processes have been tested and meet NSF International's requirements for hygienically clean and safer napkins and tablecloths.
NSF International is a global independent 3rd party organization that writes standards, and tests and certifies products for the water, food, health-sciences and consumer goods industries to minimize adverse health effects and protect the environment (nsf.org).
NSF International has launched a certification program for commercial laundering operations to verify their effectiveness in disinfecting and cleaning napkins, tablecloths, towels and other linens and fabrics used in hospitality and foodservice operations.
Restaurants rely on commercial linen cleaning services to ensure the disinfection and removal of soil and bacteria from linens before they are returned for reuse. NSF International's Commercial Laundering Certification Program provides assurance that an effective cleaning process has been implemented at certified facilities by auditing the laundering facility and testing linen samples to ensure harmful bacteria and other pathogens are effectively removed.